Business Plan Example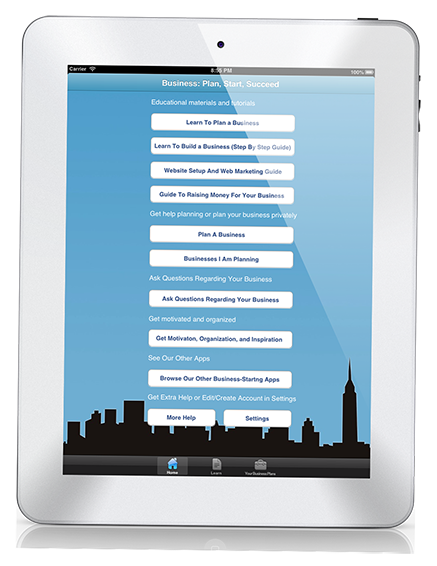 Photo taken from the
PLR courses page
This is an example business plan of a fictitious company: Bob's Lawn Care. The research and particular industry statistics are just examples and are not meant to be real.
If you want more concrete help on planning a business, here is a book I wrote on planning a business. This book is consistently the best business planning book on Amazon and is used in a few entrepreneurship centers in US universities. Here is a full list of my business and marketing books. If you prefer learning by watching videos rather than reading, here is a page with my Udemy courses with deals to get any of them including the business plan course for just $10 each.
Executive Summary
Bob's Lawn Care was started in 2012. The company operates within San Francisco, California and services area within a 30 mile radius of the city.
Product Overview
The company offers residential lawn care, landscaping and yard work. The main focus is on affluent residential lawn care services.
Current Progress Of The Business
The company was founded in April 2012. Since then we have opened a small office and hired a sales person and two full-time employees.
We currently have 25 residential accounts which we service on a monthly basis.
Our current growth is adding approximately 5 residential accounts per month while losing about one per month.
Video Tutorials For Creating Business Plans
Here is how to write a business plan for a restaurant.
Here is how to write a business plan for a gym.
Target Market
Our main focus is the high end residential market. Our research shows that there are 120,000 single family homes in the area which we service.
Market Size
From industry research, we know that approximately 40% of affluent homes hire lawn care companies to maintain their lawns. That leaves us with a market size of about 45,000 residential homes.
Additionally, there are 1,000,000 non-affluent homes in the area, 5% of which hire lawn care companies, which adds another 50,000 homes.
Additionally, there are 10,000 apartment buildings, 80% of which use lawn care companies.
That brings our total market size to 105,000 residences. The average account size brings in an annual $5,000 per account which makes our total market opportunity: 105,000 residences multiplied by 5000 dollars = $525,000,000 per year.
Competition
We compete with numerous other lawn care and landscaping companies such as John's Lawn Care and Pete's Lawn Care. We are different from most of our competition in the quality of work that we provide.
We provide higher quality work at higher prices, which enables us to target more affluent consumers which will eventually lead to higher margins.
Financials
Our current annual revenue from our 25 accounts is $125,000 per year.
Our major costs are
1) Staff salaries for the 4 current employees: $120,000.
2) Office space: $20,000 per year.
3) Equipment and vehicles: $30,000 per year
4) Additional, smaller and 1-time costs: $10,000
Total costs $180,000 which brings us to a net loss of $55,000 per year.
Marketing And Sales
We are currently marketing via 3 methods:
1) Direct sales and reaching out to potential clients.
2) Building a professional referral network with other local service providers.
3) Online advertising via our website and listings on other local-service websites.
Current Team
Bob, CEO and founder, has over 20 years experience in the lawn care industry and previously ran a successful lawn care company in Los Angeles which he sold when he moved to San Francisco.
The rest of the team is:
One sales person and two people who go to locations and do the lawn care services.
What Are You Looking For
We are looking for a small business loan of $300,000 in order to fund our growth via marketing and sales for the next two years and help us get to 500 accounts which will equal to annual revenue of approximately 2.5 million.
More Business Plan Resources
For more business planning and starting resources, take a look at Sba.gov.
Before you plan your business, one thing you should consider is which business niche to get into. Here is a tutorial on how to choose your business niche.
Tutorials On How To Start Specific Businesses
I am working on a full list of businesses or services you can start: restaurant or diner, coffee shop, barbershop, nightclub, local event, most kinds of stores ranging from boutiques to grocery stores to jewlery shops, animal care or grooming, lawn care or landscaping businesses, moving businesses, gym, a t-shirt business, gelato, frozen yogurt or ice cream shop, a deli, liquor store or a sandwich shop, a a beauty salon or a hair salon, a spa, a daycare business, hardware store, cleaning business that is either commercial or residential, car wash, general contractor business, dog walking or pet sitting, martial arts studio, or a dance studio.
I am also working on a list of tutorials for how you can promote certain companies. The first one I am working on is law firm marketing.
Here is a list of potential online businesses you can start: blogging, affiliate marketing, marketing agency, elearning, create a channel on YouTube, become an author and sell books on Amazon and the Kindle, or become a freelancer or a local concierge. You can also create a mobile app or a website that provides some service or product or content that people can visit.
I will be adding more examples of how to start different kinds of businesses. Here is an article of how to start a record label.
More Articles And Videos On Starting A Businesses
If you are at the beginning stages of your business, it is prudent to learn about many different aspects of business ideas and how to handle them.
Article by Alex Genadinik