Our Four Barnes and Noble NOOK Tablet Business Apps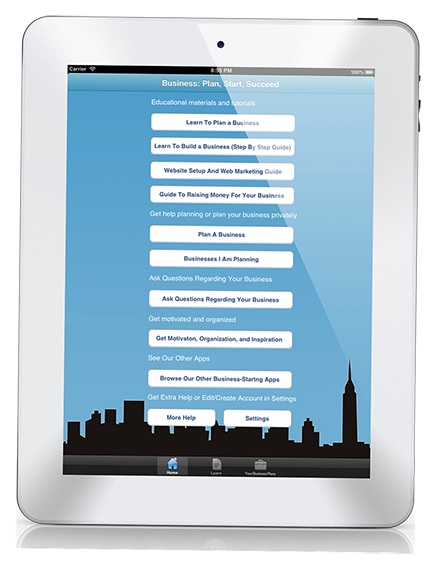 At the time of writing this article, there have been over 7,000 businesses posted and planned across all our apps. We have helped plan many of these businesses alongside with the entrepreneurs. What we constantly notice are three areas of concern voiced either by the entrepreneurs or by us. For that reason we brought a course of four apps to the Barnes and Noble Nook devices: the main business planning app, and three apps peripheral to the business plan app, that cover topics such as fundraising, business ideas and marketing. All the apps feature live assistance if it is needed, and a number of in-depth tutorials and articles that draw on the experience of the over 7,000 businesses that came before.
Barnes And Noble Nook Tablet Business Plan Mobile App
The business plan app is the main app in the group. In this application you can plan your business, and ask questions to which you get prompt answers by a an experienced entrepreneur. There are also over 15 articles that help guide you on various topics of starting a business. You can choose plan your business privately (no one sees your business) or with our help (only our staff will see the business in this case). The app is designed to enable discussions between the entrepreneur and the person assisting them, right inside each business plan section to make the planning more organized.
In the individual sections of the business plan we usually help entrepreneurs plan out their product strategy, marketing strategies, give fundraising and finance guidance, and more. There are a few very common topics like business idea issues, fundraising, or marketing that require more explanations that we can type out inside the app, and for that reason, we suggest people download our other three apps to help guide them.
Barnes And Noble Nook Tablet Business Ideas Mobile App
The business idea app has a number of articles on common issues we have seen with the thousands of businesses across our apps. The main issues are founder-idea mismatch, people jumping into businesses without understanding the space that the business is in, and many more issues. A sample article from that app can be found on this site on our business ideas page.
The app is made to empower entrepreneurs to be able to tell for themselves which ideas are right for them, and to use solid fundamentals and good-practice techniques to come up with new business ideas.
$0.99 Business Ideas App
Barnes And Noble Nook Tablet Marketing Mobile App
We feel that the marketing mobile app is very helpful because it is geared towards the type of audience that is realistically starting a business. While marketing information can be found online, it is usually geared towards technology, and marketing websites.
But in reality, most businesses out there are not tech-related. Most businesses are the restaurants on almost every block of every city, the convenience stores, the clothing items people try to make, creative small businesses where people make physical items with their own hands, etc. So our marketing app is geared towards giving the individual an understanding of fundamentals, and an ability to dive into the specifics of their business while using the general marketing knowledge.
$0.99 Business Marketing App
Barnes And Noble Nook Tablet Fundraising Mobile App
Raising money is another topic that comes up very frequently. Raising money is very difficult. It requires an ability to correctly calculate how much money a business needs to raise at a given point in time, and what fundraising routes are available to that unique business.
Additionally, many people also confuse business funding with personal financing, and just seek ways to get money to finance their lives.
The app serves as a guide to what sort of fundraising techniques are available to which different businesses. There are numerous tips for planning to raise money via loans, grants, donations or an investment. In addition there are some tips for thinking outside the box and coming up with creative fundraising ideas if the traditional fundraising ideas don't quite work.
$0.99 Business Fundraising App
More Resources To Help You Plan And Start Your Business
I created over 70 business and marketing online courses on Udemy. Check out my full list of Udemy coupons to see which coures might help you with your business.
In addition to the Udemy courses, I wrote over 15 business and marketing books. Yes, that is 15 books! Check out my full list of business books to see which might be more helpful to you in starting your business.
Lastly, if you need to set up and create your website, here is my tutorial on how to easily create your own Wordpress website in as little as one or two days. Here is the tutorial on how to create your website with Wordpress.
Starting Your Business
If you are at the very beginning stages of starting your business, you might want to check out the article on how to get business ideas and how to pitch your business.
Further resources
Check out the Barnes & Noble website for everything Barnes & Noble has to offer. Additionally, check out my very full and comprehensive article on how to get business ideas and the tutorial on different kinds of business models.
Even more business planning resources
I have a few new products and resources to share with you. First of all, I published an insightful new blog post on how to find a business niche. I also published a post previewing my business plan book. And if you are curious to learn more from me, here is a page with all my Udemy coupons so you can get my courses at discounted prices.
List Of Different Businesses And Tutorials To Start Them Right (Coming Soon)
I am working on a full list of businesses or services you can start: restaurant or diner, coffee shop, barbershop, nightclub, local event, most kinds of stores ranging from boutiques to grocery stores to jewlery shops, animal care or grooming, lawn care or landscaping businesses, moving businesses, gym, frozen yogurt or ice cream shop, a deli, liquor store or a sandwich shop, a beauty salon or a hair salon, a spa, a daycare, a hardware store, commercial cleaning or residential cleaning, car wash, general contractor business, dog walking or pet sitting, martial arts studio, business selling t-shirts, or a dance studio.
Here is a list of potential online businesses you can start: blogging, affiliate marketing, elearning, create a channel on YouTube, become an author and sell books on Amazon and the Kindle, or become a freelancer or a local concierge. You can also create a mobile app or a website that provides some service or product or content that people can visit.
Additional articles you might enjoy
Article by Alex Genadinik