Marketing and Advertising Fundamentals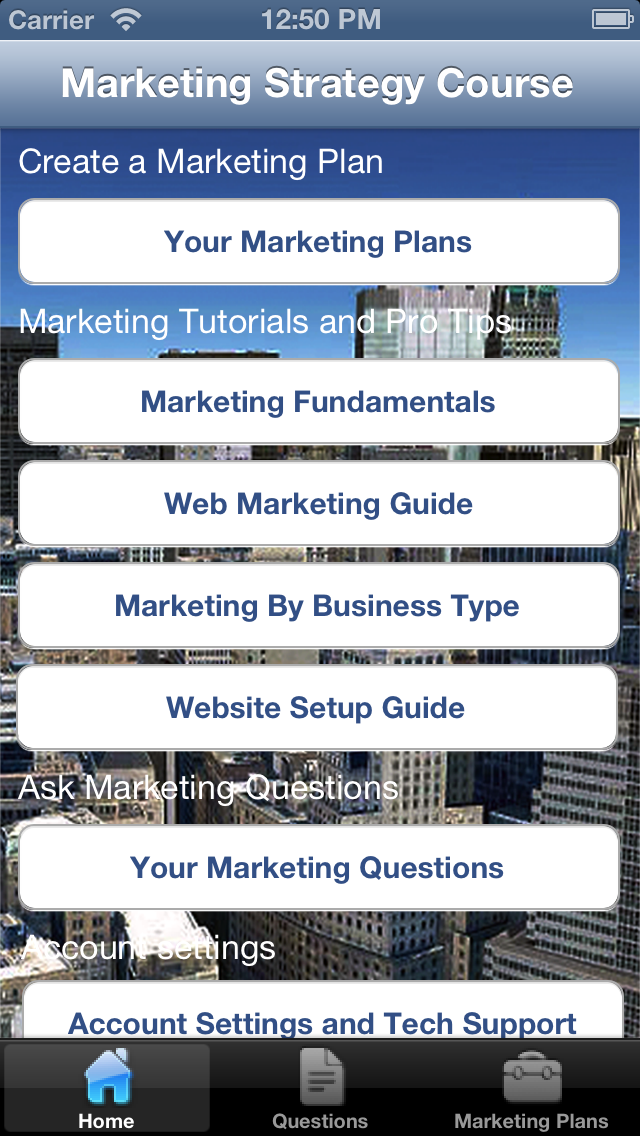 Marketing your product is extremely important. In fact, it is one of the biggest business challenges your business will need to overcome in order to be successful. In this article we will teach you some of the core fundamentals of marketing and promoting your business.
The four important factors and fundamentals in every marketing campaign is:
1) Cost of the marketing.
2) Scale of the people you will reach.
3) Precision of targeting, meaning how accurately you will reach your target market.
4) How well the people who learn about your product or service convert into doing whatever actions you need them to do.
Popular Marketing Channels
Marketing is always better if you are creative with your approach and understand your consumer. Nevertheless, there are some very standard ways to think through the different marketing techniques. You can try and see what might work for you. In this article, we go over some common ways in which products and businesses can be marketed. Not all work for every product, so you have to think through which approach works best for your venture, and what will help you achieve success in your business. This article focuses more on fundamentals. If you want extra ideas, take a look at our article with marketing and advertising ideas to get new customers which goes in more detail about specific approaches.
1) Social recommendations - with the rise of the social web, people often like to pass on quality content and products to their social networks. The types of products that do well are things that are simple, social and fun. Serious subjects that are not so fun do not typically do well in social marketing. Here is a longer discussion of what is social media marketing and advertising. And of course, one of the cornrstones of social media marketing is blogging. To learn more about blogging as a marketing tool for your business, please take a look at our article about blogging and guest blogging as social media markting. Guest blogging is actually one way you can create a little press (PR) for your business.
2) PR articles and blog mentions - things that do well are innovative and different products and services that publications tend to think will be interesting for their readers. Also, connections in the blogging and PR world really help here. Take a look at our introduction to getting press for your business.
3) Being easily discoverable - whether you are a store on a busy street, or an Internet site that ranks in the top-10 search results of Google for many searches, there is an art to becoming discoverable. There are many ways in which a company can be discovered, and you have to plan through them strategically.
4) Paying to advertise to bring in new customers - this is a very reliable way to advertise. This advertising method is available to businesses that have a strong business model, bring in considerable revenue, and can afford to spend some of that revenue investing in advertising which brings in more paying customers. This is why it is very nice to have a strong business model when you plan your company.
5) You can try reaching out to acquire customers and spreading the word about your business. This is close to a direct sales approach. It is expensive and it does not scale well, but it can work very well because a strong effort can go a very long way.
6) In general, try to always think about what other bigger platforms, sites, or companies have access to your users and try to think about partnerships or any other ways to get some of those people to your product or service. A small part of a bigger player's customer base can be a big lift for you.
Introduction To Marketing Video Tutorial
Some Marketing Notes
Just getting many people to come to your store or website is not enough. If they are not your target users, you will experience a very low conversion rate and a big part of your marketing efforts will be wasted because the people will simply leave, get irritated, and not come back. If you want visitors to turn into customers, what you want to always do is try to market to your target audience.
Sometimes having a large volume of people who learn about your product or service can benefit you if you are trying to raise general awareness or are in a stage of your business where you are looking to grow and scale the company.
Online Marketing
For almost any business, a part of promoting that business happens online. For that reason we try to cover the topic of online marketing in significant detail. We have guides for topics such as choosing the domain name for your website, setting up your website, and a discussion of different types of online marketing you can try for your business.
Offline Marketing
Despite the growing popularity of online marketing, there is still quite a bit you can do with offline marketing. Meeting and talking to people face to face can help you build stronger business relationships. The common offline marketing techniques are handing out business cards, networking, attending and speaking at industry events, door to door marketing, and giving out promotional products and branded items at tradeshows.
Marketing By Type Of Business
Different businesses need marketing plans that best suit those individual businesses. For that reason we created a unique article that goes over the common marketing techniques for different types of business. Take a look at our article named marketing by business type.
Here is a video on how to market a local service or a local business.
Avoid These Common Marketing Mistakes
As you actively work to promote your business, there is a number of pitfalls to avoid. They tend to range from not keeping up to date on the latest marketing techniques to not being too agressive, to not thinking through the four pillars of any marketing campaign that we discussed earlier in this article. For a longer discussion of advertising mistakes and marketing errors see our full article on this subject.
Understand Marketing Costs
Further Marketing Resources
For more about blogging, check out the Wikipedia entry on blogging and the main blog about blogging with blogging tips for beginners. One site you might find helpful are SEO Moz to learn about SEO. Another site that might be helpful is Mashable which focuses on social media marketing. And here are some more marketing videos that you might find helpful.
Marketing Examples
I will be posting examples of how to promote different kinds of company. Here is the first article in this series about marketing for a massage business.
Here are some tips on marketing a diet supplement business.
Article by Alex Genadinik